For all work enquiries please contact Nick at Nick@nrhmanagement
« hide
About Me
Thanks for checking out my site - the entire point is free self-help with agony aunt-style advice on lots of topics. That said, no article (in full or in part) may be reprinted or used without my premission.
I work as a self help expert, life and solutions coach, commentator and writer on sex, relationships, and behaviour and agony aunt.
I hope you'll find the articles & tips useful! I've sorted them into the main areas of: sex, love & relationships, parenting, life coaching, and others.
Please get in touch at 'e-mail me' on my homepage - I'd love to answer every e-mail but as I run my site without assistance and work full-time sadly I can't.
In my work as an agony aunt, solutions coach and writer I've written 14 self-help books, my latest are Sex Academy, How to be a Happy Human and The Emotional Eater's Diet. I'm also...
Read More »
...an occasional broadcaster doing a bit of radio & TV.
For over three years I've had a fortnightly online sex and love advice column for the Sun newspaper - please do visit the Sun online - a new column goes live every other Friday full of top tips on sex and love.
Recently I did a fun project as a regular celebrity news/relationships commentator on a small satellite show and I pop up on different TV programmes as an agony aunt and social commentator like This Morning, BBC Breakfast, Loose Women, Sky News, and the spin off Big Brother programmes.
Since 1997 I've presented radio programmes and was over-the-moon to win a Sony radio award when I was at Heart FM London here I presented shows for five years. I then presented for 4 1/2 years on LBC before going freelance. Since then I've presented and 'guested' on a huge number of BBC regional stations inclduing BBC London, Western regions and Surrey and Sussex.
For two years I had a weekly agony slot on Tom Dunne's show on Dublin Newstalk radio as well as a weekly dream analysis slot on George Lamb's previous BBC 6 Music shows.
I've previously worked as a psychologist getting my doctorate in psychology from a London teaching hospital where I researched how to help parents whose children had emotional and/or behavioural problems. I've done a number of other courses in psychology - my BSc Hons in psychology from a London university, MPhil in psychology from the London teaching hospital I received my PhD from + ad hoc counselling-type and self-improvement/life-coaching courses. I'm a Chartered Research, Teaching & Academic psychologist with the BPS.
I have worked with a number of charities and presently am a patron of Kids in the Middle that advises parents who are breaking up on how to help their children during this difficult time.
It's fun writing a weekly 'Love Doc' page for Miss Independent Woman website - check them out here! And I'm starting a new agony column with the Yummy Mummy website.
I also support the fantastic work of Kevin Healey and to his autism bullying campaign as well as being a founding member of Kids in the Middle - a charity that aims to promote awareness in parents who are breaking up and how this can affect their children.
I'm delighted to support Saying Goodbye a charity supporting and providing national services for those who have suffered a miscarriage, still birth or early years loss.

No two days are the same and I enjoy fresh challenges and always look for new things to do having written self-help columns and articles for many websites and magazines.
I hope you find the site helpful - it's packed with tips and advice - and more to come. Keep checking in for updates!
Keep happy, keep hopeful, Dr Pam x
p.s My 'loves' include: anything made of chocolate (I'm a complete chocoholic) + music including artists/bands - off the top of my head and in a completely random order - Foos, Kings of Leon, Royal Blood, Pulled Apart by Horses, Jack White, Mallory Knox, Bloc Party, XX, The Drums, Wild Beasts, Phoenix, Filthy Dukes, Yeah Yeah Yeahs, the Strokes, The Dead Weather, Them Crooked Vultures, Alabama Shakes, Biffy Clyro, Enter Shakari, MGMT, Band of Horses, Arcade Fire, White Lies, Example, Calvin Harris, Mark Ronson, Black Keys, Plan B, MIA, Tinie Tempah, Tinchy Stryder, Dizzee Rascal, JayZ, plus AWOL Nation, TEED, Wretch 32, Angel, Jay James Picton, Kendrick Lamar, Spector, Wolfgang, Ed Sheeran and Liam Bailey, Ben Howard, plus dubstep Magnetic Man, Modestep, Nero and Katy B + so many more... like poptastic (and sometimes guilty) pleasures like The Sugababes, Girls Aloud, Britney, Take That + great books like anything by John Irving, William Boyd, Robert Harris, and Lionel Shriver + travel including places like Peru, Cuba, Cambodia, Thailand and India + films of all genres + lots of other stuff like going to galleries, the theatre + action sports like water skiing, skiing, paragliding, hiking and I've been a black belt in Shotokan Karate for years but haven't been able to train for a few years due to a major accident (not related to Karate).
Hide Biog »
News
Don't make it third time lucky like Eva Longoria, get lucky before the 3rd time around...
24/05/2016
As Eva gets married for the third time I wish her the best of luck. But to be truly lucky in love hopefully you can make it work the first or the second time around.

In my Sun newspaper column today I've got some must-know info for you. Especially if you have a repeat pattern of long-term relationships that fall apart.

Happy Monday, Pam x
Is it ever a good idea to let your partner stray? My comments for Good To Know...
22/05/2016
What with all the debate about letting partners stray, if you've lost your sex drive, Good To Know got in touch - they
wanted my thoughts
- I'm sure you can guess what they might be!
Hope you're having a wonderful weekend, Pam x
Looking for summer love? Check my top tips for Little Mistress...
21/05/2016
If you're looking for summer love I've got good news for you in my piece for
Little Mistress
.
Good luck, have fun!

Happy weekend, Pam x


5 things you must know about your sexual desire as Loose Woman Saira Khan gives...
19/05/2016
Loose Women's Saira Khan has said she'll give her husband permission to sleep with someone else since she's lost interest in sex. No, a 1000 times no!

In my Sun newspaper online column I'll fill you in on sexual desire - the red flags that lead to lack of desire and some tips to re-boost it.

Take care, Pam x
Hotheaded? Temper get you in trouble? Like Cara Delevigne?
16/05/2016
After reading how model and actress Cara Delevigne lost her temper at Eurostar customs, I wrote the piece full of tips for my Sun newspaper column.
Check out the
6 signs you've got an anger issue
and what to do about it.
These problems need sorting out, Pam x
Calling all parents – are you searching high and low for your sex life?
13/05/2016
In my Sun newspaper online column today I've decided to tackle that age-old dilemma of parents gaining a baby but losing their sex life.

Ryan Gosling and Eva Mendes have just had baby number 2 and it got me thinking about how even a Hollywood couple like them might be struggling for energy in the bedroom.

Here are some top tips for you parents.

Enjoy your weekend, Pam x

Dilemmas, dilemmas, dilemmas in my magazine column...
10/05/2016
No two problems are alike. Proof of this is my Magnet magazine column this month.
Can't keep up in bed? Drama Queen? Competitive colleague? Then
please check out the link
(It takes a few moments to open)
Lots of love, Pam x
Beauty is skin deep...and more!
06/05/2016
Having worked on lots of confidence and body image projects I know how many women (and men) don't feel beautiful inside.
One project found 2/3s of women stayed home from work once a month because they didn't feel attractive enough to face the world - really shocking and sad - they didn't want to set foot outside! No one should feel that way.
And about 3/4s felt 'friend-envy' – that their friends were more attractive. With all kinds of implications for going out with their friends - the people you want to relax around most.
Such stats reveal a loss of emotional well-being, all to do with how you feel about your looks.
I frequently do confidence coaching to help people increase confidence and self-esteem. And one thing I know is that feeling attractive - and generally good about yourself - includes the skin-deep level.
When my skin feels good, healthy and shining, I feel better all round. It's the same when you've had your highlights done or love a new outfit – it helps you feel at your best.
First, though, the foundation of confidence begins with inner confidence. So I have some self-esteem boosting tips for you. Then I'll tell you about some Elizabeth Arden products I've just tried.
Boost your body image and confidence:
* Turn that harsh inner voice – your inner-critic - into a gentler one. Be aware when it starts telling you: I'm not good enough, I'm not attractive, I hate my body, nose, chin, face, etc.
Substitute it with a soothing inner-voice. Challenge negativity, replace with things like: I'm okay, I'm attractive, I'm going to accept myself.
*Make a list of your three top personal qualities – good sense of humour, you're a caring friend, you work hard, etc. Post this list where you'll see it every day – maybe your dressing table or desk.
* Stop focusing on your body and looks. Start focusing on making your life more enjoyable. Catch yourself thinking about your attractiveness/unattractiveness? Remind yourself then(!) that there are more important things. Start planning your next girls-night-out, next holiday, the career-training you want, etc.
* Learn what sets off feelings of low self-esteem. For instance, if your partner or boss criticises you, do you take it to heart. Do these triggers a self-critical mode? Challenge your reaction to things like criticism. Pull people up if they don't give constructive criticism. Don't just 'take it', discuss it.
*Expect more from how people treat you generally. Don't accept 2nd class treatment, know that you deserve better. Tell people when they let you down.
* Stop beating yourself up if you don't always do your best. No one does 100% of the time! Instead when you do well, give yourself some praise. But when you don't have a great day, remember it doesn't matter.
* Think of the person who makes you feel good. What would they say when you're running yourself down? Imagine their pep-talk and that you need to believe it.
*Also when feeling bad about yourself, for whatever reason, give them a call. Or get out for a walk, go shopping, to the gym, just do the little things you enjoy.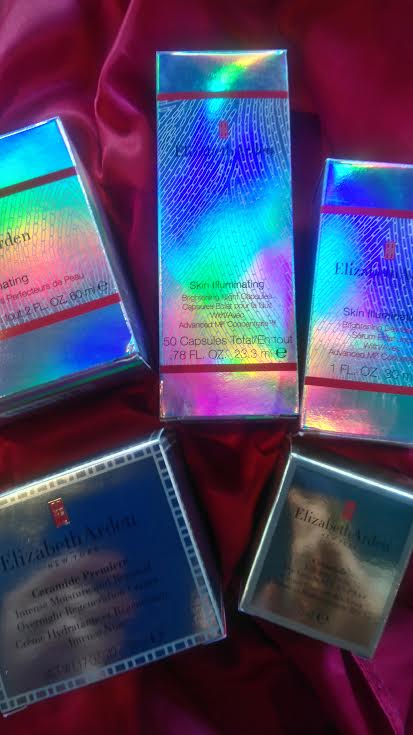 I LOVE beauty products, I try everything from the least expensive to the most extensive ranges. I'm always looking for products that make my skin feel good and glowing.
So I was very happy when Elizabeth Arden sent me some of the Skin Illuminating range and Ceramide range to try*.
Let's begin with the Skin Illuminating Night Capsules - lovely little capsules of a rich, sensual serum. Combined with the Skin Illuminating Day Serum, within a few days I had fallen for these.
The texture of my skin felt improved, highly moisturised and soft. And I loved the 'illuminating' quality of the Day Serum under my make-up.
Every few days I've used the Skin Illuminating Retexturizing Pads, too, as instructed. These have a wonderful effect of improving the top layer of your skin - mine felt gently invigorated and stimulated.
Yet the retexturizing pads aren't too harsh. Some products I've tried for this purpose have just been too strong for my skin to tolerate. I've come out in red blotches - not good – but not with this one.
After a couple weeks I moved onto the Ceramide range which has a very different feel to it. But again I loved the texture of the products.
The Ceramide Premiere Intense Moisture and Renewal Overnight Regeneration Cream is super luxurious. As it's very rich - like a pot of velvet for your face - I'd take a small amount, warm it between my fingers and then stroke it over my skin.
Both the Ceramide Capsules Daily Youth Restoring Eye Serum and Ceramide Capsules Daily Youth Restoring Serum (face) had an easy-to-use feel. My skin felt enriched and nourished.
Plus the products have a real lasting quality. Unlike some products where within a couple hours you feel you need to top them up.
In fact with all of these Elizabeth Arden products I felt they lasted all day - or night - as relevant. It just shows the quality when you're not reaching for more product every couple hours.
I'm too busy during the day to top up a moisturiser but I hate that feeling with some ranges that they disappear instantly into your skin and you want more.
*Please note I wasn't paid for this article.
10 DON'T do things for your vagina's happiness...
06/05/2016
In today's Sun newspaper online I've written a column about 10 don't do things to help your vagina.
Follow these and keep it happy
!
Enjoy this hot and sunny weekend, Pam x
As it's rumoured Beyonce and Jay Z have had what's called a silent separation...
05/05/2016
Could you be heading for a silent separation? Or are you and your partner in the middle of one? For today's Sun newspaper online I've commented on rumours that they're in the middle of a silent separation.
Check the 5 signs you need to know
if your relationship is heading that way.
If you still care about your partner, look after each other, Pam