01/03/2018
I get asked this kind of question all the time...
I get asked how to introduce fantasy-play all the time so I thought this was a good email to answer where I can give out tips that can be applied to lots of fantasy-play...
Dear Dr. Pam,
My fiance is what you'd call a quiet guy and it is a case of 'opposites attracting' between us because I'm definitely the outgoing one. He wouldn't say boo to a goose and is the kindest person I've ever met.
The thing is, he has a great body and I've got this big fantasy of him dressing up as a policeman. It'd be such turn on if he'd arrest me and we'd have amazing 50 shades type of sex with him playing out that role.
I think about all the time and know I would have the best sex ever if I could pretend my hot man was a policeman. It's got to the point where I've hinted at it but he hasn't taken up the hint.
I'm not sure if he's got my hints but because of his personality he's embarrassed to do anything about them or he just hasn't got the hint! How can I approach him with this so I get my evil way with him? I want this to be fun not an ordeal for him. Thanks for any help I appreciate your time! xx
Dear "Arresting fantasy",
Don't be fooled, sometimes the quiet types are thinking all sorts of naughty things that they'd love to share with their partner but may not have the confidence to. Being quiet and a bit shy doesn't mean they don't have a fantasy life too.
He may just turn out to be ready, willing and able to play out a policeman fantasy for you. But you don't want to frighten him off by throwing a policeman's uniform onto the bed while saying, "come on babe, pretend I'm a criminal who needs some punishing!"
That approach may be a little too much so take it one step at a time. The next time you're having sex, whisper in his ear that you love his gorgeous body - really boost his confidence.
Then the next time after that you could mention again how gorgeous his body is plus how you've had this little "thought" [don't tell him it's a full on red hot fantasy] about how sexy he look dressed as a policeman. Gauge his response - if he looks pleased and as if he wants to hear more than tell him in lots of delicious detail about your fantasy.
You say you want to take it into Fifty Shades territory - with your fantasy that's easily done because if he's up for it you can use handcuffs, tethers, spanking paddles etc. for disciplining you for your "bad behaviour". And oh my, what a criminal mastermind you're going to be so that he has to be a masterful policeman to get you in line.
As with introducing any fantasy a slowly, slowly approach works best before turning it into an actual role-play with all the gear that goes with actually playing it out.
Taking this approach could open up all sorts of possibilities because you can ask him if he has any fantasies about you. And of course you'll return the favour and help him re-create the scenario that turns him on.
I'm hoping you turn your shy guy into a red-hot policeman but if you find he hates this idea don't take that as a total turn down. Instead ask him what fantasy figure he might like to pretend to be- there's usually a compromise to be had.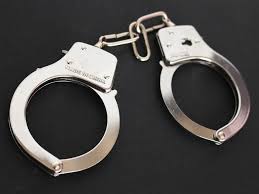 Good luck, Dr Pam x