10/12/2019
Do you get Christmas party nerves? I have lots of tips for you....
Here's a Q&A I did about Christmas party nerves and anxiety...
How can people feel more confident at parties?
Always boost your confidence before you head to a party. Daily, remind yourself of your three best personal qualities. Keep repeating these to yourself – that you are a caring person, you're a good friend, that you love to have a good laugh. Also focus on something positive that has happened to you recently. Keep these things firmly in mind in the run-up to the party.
Remember that other people also have party-nerves, you're not alone. Pre-plan two easy topics to have ready to start a conversation with. Ask people you meet at the party if they're also watching the box set or TV drama you love. Or ask if they've seen the film you've just seen. Or simply ask how they know the host/hostess, that's an easy icebreaker.
What advice do you have for making a good first impression?
So that you don't arrive in a bit of a 'state', plan and layout your outfit the night before. Because if you have to rush to get ready, it'll leave you anxious and arriving late in a fluster.
Choose something you feel most confident in. For instance, if you wobble in high heels choose flatter heels. Better to stand confidently then wobble around the whole evening.
Before you walk in, shake out your arms and take a few slow deep breaths. Then remind yourself of what a great person you are. Enter the party looking confident, with a nice smile, and you immediately make a good impression.
How can you be more charismatic?
Charismatic people are very much "in the moment". That means they really enjoy where they are. They don't worry about who they will talk to next. They don't get anxious over things like if they wore the 'wrong' thing. They truly enjoy where they are, at that time, and it comes across in their personal chemistry.
Let go of anxious thinking and just enjoy the taste of the food, savour your drink, listen actively to what others say, lose yourself in the moment.
How can people who have trouble with social events like parties prepare for a party?
If you struggle at social events like parties then you can build up to one by setting yourself little challenges beforehand. Simple things like forcing yourself to chat to a shopkeeper or someone at the bus stop is a good start.
Make a point of speaking up at work is another good way to show yourself that you can "put yourself out there".
Definitely practice relaxation techniques before you head out to social situations. Lie quietly for 10 minutes, focus on slow deep breaths and on a recent success of yours. It only has to be a small success like speaking to someone new.
How can you quiet anxious thoughts you may have at parties?
If fretful thoughts about things like you won't know what to say to people, no one will be interested in you, etc., keep popping into your mind actively challenge them. Tell yourself: I will chat people, people will be interested in me!
Practice makes perfect so keep challenging those nagging thoughts.
What are some good goals to set for yourself before the party (talk to X people, etc)?
I don't think you should put yourself under pressure to have goals at the party like speaking to at least five new people. The big goal should be just to relax, enjoy yourself, and have fun. Whether you end up meeting one new person or 10 new people, doesn't matter. As long as you enjoyed yourself then you can give yourself a big pat on the back.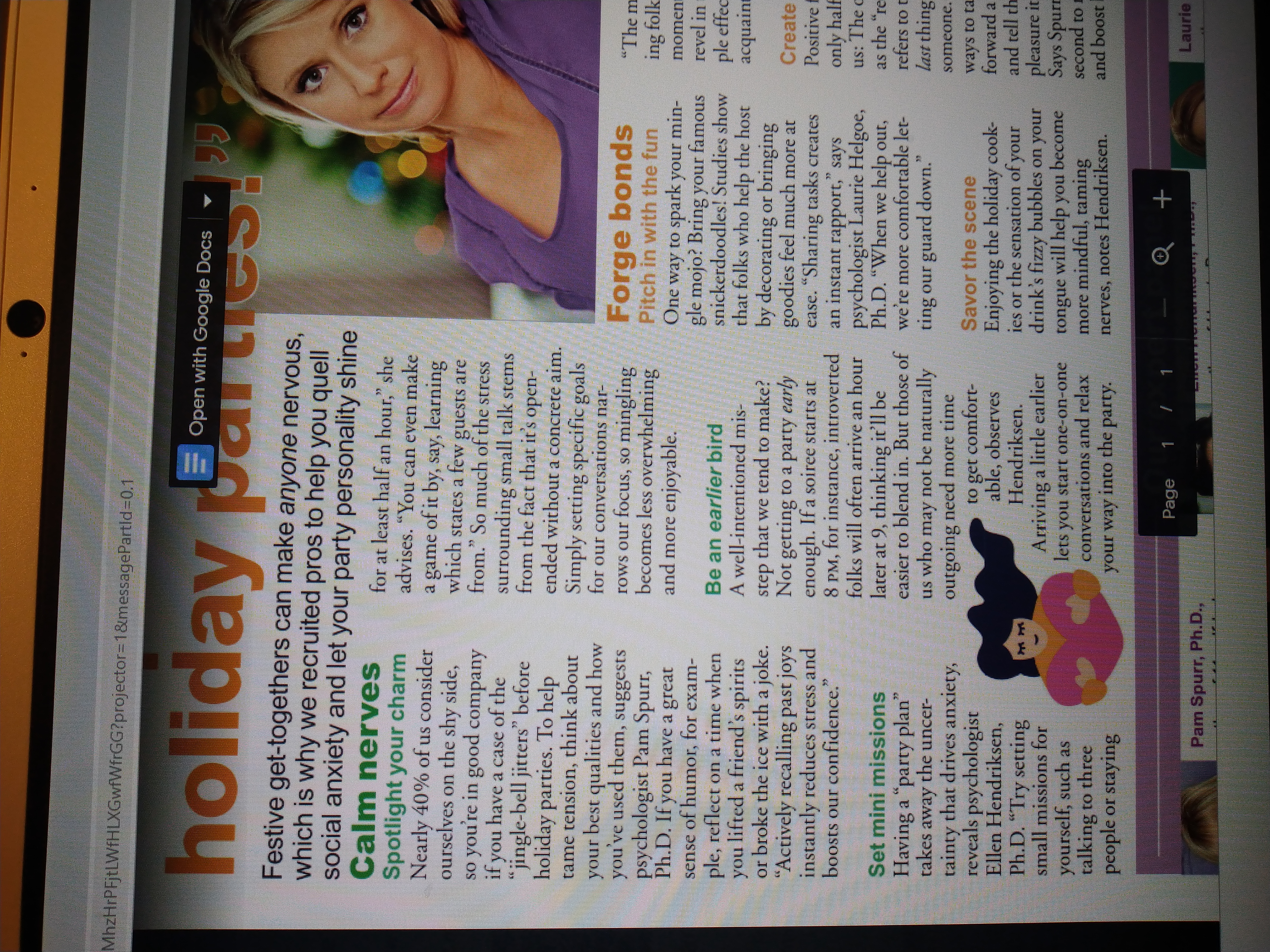 Enjoy, Pam x