16/03/2021
Check out my fantastic guests for this Thursday's radio show...
I hope you'll join me 2 PM, UK time this Thursday for my fantastic guests!
the show kicks off with the inimitable Charlie King who will be giving lots of fitness tips to get fit for spring as well as covering the trending topics!
Next up is "Mr Fabulous" Jay Kamiraz who will be discussing his role as mentor and role model and how to get inspired as well as his new music!
Last but not least its psychologist Jo Hemmings who will be discussing with me how to rekindle your sex life!
Don't miss out as you can ask questions, share your views and comment live during the show on the Men's Radio Station Facebook and YouTube: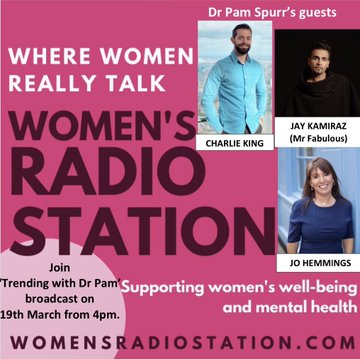 My show is repeated Friday at 4 PM on both the Men's Radio Station and the Women's Radio Station.
I look forward to you joining us Thursday at 2 PM, Pam x